Terragen : "Workplace safety is key"
18 Feb 21

Back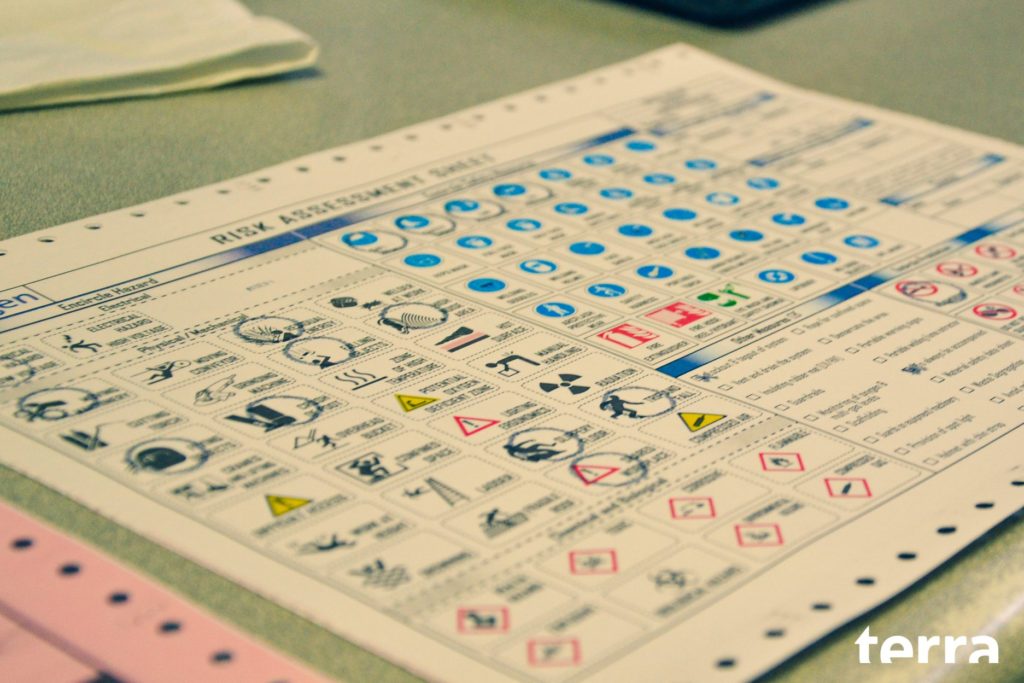 A positive working environment and an effective work performance go hand in hand with employee safety. Adish Sewlall, QSE Coordinator at Terragen, enlightens us about the measures taken to ensure an optimal level of safety within the factory.
Employee safety is clearly a priority at Terragen. What are the most common causes of accidents in the workplace?
The safety of our employees is paramount at Terragen. We attach a great deal of importance to the wellbeing and security of our personnel – it is something that demands continuous improvement. This is especially true following a spike in accidents in 2020. For instance, among the last three accidents involving Terragen personnel, two required six days off. The first accident occurred as a result of a miscalculation – our employee underestimated the weight of the load he was carrying, which ultimately caused back pain. The second accident was due to a hardware failure, an electrical outlet malfunctioned while our employee was handling it, resulting in a hand injury. The third, more serious accident, was as a result of a fall from a fixed ladder. After scrutinizing the ladder in question, our team discovered the absence of handrails, but more alarmingly, on all the 52 ladders on site! Lastly, certain accidents can be linked to poor communication between employees, or simply, can occur due to fatigue.
What is the procedure following a workplace accident?
In the event of an accident, we have certain protocols to follow – especially when said accident involves a member of our team. All accidents are reported to the QSE, and a formal investigation is launched. The investigation necessitates paperwork, namely an accident report, which details the cause and location of the incident, any witnesses, as well as details of the injured party. Following the investigation, the Management sets up an action plan, which is subsequently monitored on a monthly basis. The findings from the investigation are also sent to Albioma, where we benefit from the assessment of the Director of Security.
How can workplace accidents be prevented?
We believe that education is key. Therefore, continual awareness campaigns are essential. We are also working towards improving our health & safety performance. For instance, in September, all Terragen managers gathered for a meeting chaired by our CEO. The purpose of the meeting was to discuss the accidentology at Terragen. Thanks to this meeting, we were able to identify a number of causes and implement corresponding action plans – notably, a plan to reinforce our OHS system. Some of the improvements include greater involvement from a managerial perspective – Managers should now perform at least one site visit per
week. These visits ensure a regular assessment of the on-site safety and allow an official record of the feedback to be circulated by email. In terms of health & safety visits, we now demand the mandatory participation of the health & safety officer, the QSE, as well as one person per department. We have also set up the 'Quick Risk Analysis', which allows us to review the level of risk associated with the various types of equipment available on site. We have also realised that accidents often occur when routine is involved – employees are not as concentrated as they should be due to the repetitiveness of the task at hand. In order to solve this particular issue, we decided to regularly rotate the teams.
We have also implemented 'safety rituals', which are performed on weekdays. On Tuesdays, a member from each department is invited to participate in the SHE inspection. On Wednesdays, a facilitator dedicates 15 minutes to talk about safety. On Fridays, members from all departments participate in a 'clean-up session'.
In short, we are implementing several action plans in order to eradicate workplace accidents. It is a long-term commitment that depends largely on the communication and introspection of the different teams that make up Terragen.
Have you noticed any positive changes following the implementation of such measures?
Yes, I believe we are on the right track. These new measures should get us moving in the right direction – our goal for 2021 is zero accidents!
Could you tell us more about the new safety measures for 2021?
In order to ensure a safer 2021, we have updated our QSE policy. The idea is to capitalise on the existing 'good practices', but also to reinforce other procedures. These procedures involve the Quick Risk Analysis, but also include an increased field presence from the Management team. We also work on a new project every year – this year, our goal is to improve the fire alarm system with the installation of water tanks, and a reorganisation of the fire alarm circuit.